Communications professionals are concerned. As employees are experiencing Zoom fatigue, and companies like Google are asking people to take a day off to combat burnout, employee communicators need to know how to keep employees informed and engaged more effectively than ever.
In the third episode of our webinar series on Employee Communications in the New Normal, Carolina Mata, VP IBMer Communications at IBM, Kerri Warner, Senior VP, Employee Communications at Mastercard and Renee Robinson, Director of Corporate Communications at Ball Corporation recommended using a combination of compassion and innovative ideas to keep their employees engaged thru these challenging times.
Here are six ideas for keeping employee engagement high.
1.
Pulse Checks Remain on Top
It's as simple as asking "How are you doing?" Pulse checks remain one of the top tools for companies to gauge the overall mental well-being of their workforce.
At IBM, they ask three simple questions:
How are you feeling overall?
How are you feeling about work?
Are you being supported?
The result is more than the answers. By checking in on a regular basis, companies who do pulse checks are sending a message that communication is a two-way street.
2.
Cut Down on the Meetings
All three of our panelists mentioned that live video meetings (like Zoom, WebEx, etc.) are becoming a source of stress. Ball Corporation is trying other ways to communicate without adding more meetings, using a mobile app where employees can plug in on their own time, or leaning on Microsoft Teams and Slack. "It's all about connectedness right now".
Mastercard is giving leaders tips like "keep meetings to 30 minutes," encouraging lunch hours, and productivity hacks like block your time, end your day, and emphasizing a "no-guilt work from home" environment.
---
---
3.The Power of a Pledge
IBMers were responsible for creating a Work From Home Pledge that has a large number of IBM's 350,000 worldwide employees participating, including the new CEO. In it, employees pledge the following: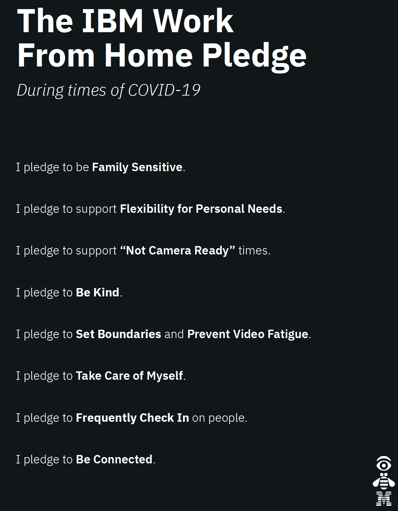 This list has coined the rules that most companies are likely doing anyway. By acknowledging that a Zoom or Teams meeting is like being a guest in each other's homes, and laughing at the SNAFUs (like our own power outage at the beginning of this webinar), a video meeting becomes less fraught with expectation and the need to perform.
4. Allow People to Be Vulnerable
Ball Corporation created corporate guidelines of "be flexible, be empathetic, be aligned" that have become the underlying foundation for how people are treating each other. They are seeing an increase in employees expressing vulnerability and are honoring their openness with respect.
Renee stressed that companies need to be sure that communication is two-way, and that leaders are also seen as being vulnerable and human too.
5. Ask-Me-Anything for Leaders
This technique has cropped up again and again in this webinar series as a way to help new CEOs become familiar within their companies.
Wells-Fargo created small intimate virtual meetings with people from different divisions in the company. IBM's technique is to create a Slack channel where the CEO sets aside "office hours" to answer any questions posed from the group. And recently, at Mastercard, they are "telling tales from the new normal", providing toolkits for leaders and having experts teach their peers a skill.
---
AMA: LIVE Q&A Session at the IABC World Conference.
Click here to join our Teams Channel
---
6. Ask-Me-Anything - Peer Talks Version
In a twist - IBM created an Ask an IBMer Anything series as well. They've been using it as a way to build best practices, by creating Top 10 Lists by IBMers for IBMers.
In one session, an IBMer from Wuhan, China answered questions from IBMers around the world about what it feels like to be ahead of the COVID-19 curve. Others have morphed into a crowdsourcing opportunity, leading to a global "IBM WFH Playlist" and a IBMer magician holding regular performances for IBMer's children.
Summary:
To keep employees engaged, use this list to help:
Use pulse checks regularly
Vary your message channels
Keep meeting time to a minimum
Allow for vulnerability
Hold Ask Me Anything sessions for leaders AND peers
Encourage increased tolerance while working from home
Velaku is communications software that puts your employee communications content right where your employees are working every day - Office 365 apps. Velaku makes it easy to create, edit, curate and target content that is broadcast to apps including SharePoint, Outlook, Yammer and Teams. It's quick to implement, easy to work with, and seamless to use. It's not content all in one place — it's content all in the right places.